The view over Upper Omalo from one of the Keslo towers . You can just make out the roof of Upper Omalo 2005 Guesthouse at 2 o'clock . A good place to start your travels in Tusheti .
Introduction
When I was last in Tusheti in the summer of 2008 eco- tourism was just taking off and there were just a few Guesthouses and a small number of welcoming Homestays. Since then new Guesthouses appear to be popping up all over Tusheti . With interest from travelers rapidly growing in Tusheti I thought it would be useful to list some of the places I've encountered and others I've recently discovered during conversations with fellow travelers and hard to find information from the web.
The following list written in 2009 with additions in 2013. This is a simple introduction to Homestays in Tusheti plus a basic list of Guesthouses I understand can now be found around Tusheti . Please don't take this list as a recommendation but it might help fellow travellers when attempting to find somewhere to stay and possibly provide a little insight into what we have experienced as a family. I should add you can read between the lines the places I prefer.
A newish site which you might find useful to help understand some of the Homestays operating in Tusheti is the facebook page.
https://www.facebook.com/directbookingtusheti
Base camp
If you are travelling from Tbilisi to Tusheti in one day you might find the journey gruelling and difficult to organise. My recommendation, if you have time, is to break the journey and travel from Tbilisi to Pankisi, staying at the Nazys guesthouse.
http://nazysguesthouse.com
.
From here the family can arrange transport and places to stay in Tusheti. The family speak excellent English and one can imagine Nazys guest house is the perfect place to relax and drink up Georgian rural life. I understand they can even arrange to have you picked up from Tbilisi which sounds like heaven. So if you want to experience the adventure but would like support from local people and not a tour company you can't go wrong with Nazys guesthouse. The conversion was completed in the spring of 2013 so what you see on their web site is exactly how it is. We wish them the very best of luck with their new enterprise . This is what rural tourism is all about.
Nazys Guesthouse
What is the difference between a Guesthouse and a Homestay?
Tusheti now has a number of Guesthouses, these have either been built with government aid ( partially a rumour but I believe this to be the case) such as the Guesthouses in Upper Omalo, Dochu ,Verkhovani and Chesho or built independently as have the Guesthouses in Omalo ,Dartlo , Gogulta and Verkhovani .
Guesthouses are purpose built for tourists and managed by a family or dedicated staff. Rooms are often basic but clean and a shower is invariably provided . In my experience you will not stay directly with the family but I'm sure there are exceptions .
A Homestay is very different . One stays directly in your hosts home, a spare room is made up ,you may eat with the family and share their lives directly. The Mother of the household cooks and prepares all your food and you share all the families washing and toilet facilities. I have never experienced a shower in such situations, just a bucket of warm water heated over the fire or Calor gas stove.
On occasions there are blends between a Guesthouse and Homestay such as Lilies house in Gogurlta and possibly Patties house in Verkhovani ,both of which my family thought were excellent. However as time passes I suspect the more casual arrangements at some of the old Gueshouses will have become more professional .
Homestays
Shenako
Zao and Nino's Homestay center of the picture taken in 2008 .
Zao and Nino run a small dairy farm in Shenako. Nino takes paying guest once and a while and the accommodation is simple . Nino's food is brilliant and as you would expect her cheese is first class , all from their own cows. Homestays are not yet publicised but if you ask around folk will often point you in the right direction. Ask for Zao in Shenako. I understand a number of villagers in Shenako now offer accommodation.
In 2013 Zao has been building a guest house .I expect it will be fully completed in 2014 but well worth a try.
A few observations on Homestays in Tusheti
Homestays are invariably simple in Tusheti and eating arrangements are very casual . Don't be surprised if a couple of strangers sit down with you at your table.There is always plenty to go around and this is often the way well wishers will want to meet and share a Cha Cha (local vodka) or two with you . Remember by staying at a Homestay you are sharing your hosts family life and friends come and go. In Tusheti the kitchen table is sacred it's the place where tales are told, bread is broken between friends and a couple of glasses of the cherished Cha Cha are toasted.
This a very typical breakfast table found in a homestay and as you can see very relaxed with a wealth of alternative options to choose from .
Homestay kitchens in Tusheti are often very basic so don't expect to find five star service or any star ,just wonderful home cooking and a pride in Tusheti .
Not all Homestays have a gas stove and we frequently came across an open fire like this one which adds to the cooking flavours and the overall experience.
OK this might appear a scruffy Homestay room but this is Tusheti in the wilderness. Homestays have their charm but if you are after manicured comfort stay in the Gueshouses but be warned, Guesthouses lack the true grit and essence of Tusheti which I believe can only be experienced while living with the people of Tusheti .The choice is yours .
Toilets in Tusheti are an experience to behold. If you are looking for an exciting trip but want all the comforts of home perhaps Tusheti is not for you . Guesthouses will invariably have a respectable toilet but that's not guaranteed. Flushing toilet at Homestays would be exceptionally rare. A hole in the ground squat toilet with a dodgy shed is more likely . We used to place bets that there would not be a latch and often be right .Always take toilet paper with you although fresh moss is a refreshing change to paper. Seriously if you have problems in this area and expect all the modern convenience of western life in Tusheti think again. The up side is with the squat loo in a shed, going to the lavatory takes on a new meaning.
My family and I have been fortunate to stay in a number of other Homestays but I think it is inappropriate to provide personal details in case they have ceased providing the service. Ask around and someone will point you in the right direction. It's far better than camping.
Support when traveling
If time is tight and your Georgian is as bad as mine g

etting to and finding your way around Tusheti can be difficult . When we traveled to the region in 2007 , Guest Houses were sparse and the local infrastructure was poor. Now in 2013 life has moved on, communities are working together and traveling in this region is much easier.
One excellent example is the joint venture between Nazy's Guest House and Guest House Sargiri. I've mentioned
Nazy's Guest House earlier in this section. These are two regional partners who have been working together to promote their cultures and provide places to stay in the surrounding mountains. Between them they provide accommodation in Tusheti and Pankisi while specializing in organizing cultural tours and multi-day mountain horse-trekking tours. In short they can provide accommodation, travel, tours and loads more. I just wish they were about when we were traveling and life would have been much easier. If this sounds like an Ad it's not. These are two local families getting together to provide the support travelers need and not a tour company; what's more they are local and they have all the right connections. You can email both family's via
nazy@nazysguesthouse.com .The Nazy household speak English and receive emails.
Guest houses
The Guesthouses around Tusheti have developed significantly since 2007. Standards vary and accommodation is often rudimentary. As a basic rule expect little and you will be happy with what you find. Remember everything has to be driven by 4x4 over the pass which introduces a significant overhead for the Guesthouses and they are only open during the summer months.
Try
www.tusheti.ge
I don't know much about this site but it is worth a try .
The following list is not definitive but I think it's a good starting point if you are trying to find somewhere to stay.
Upper and Lower Omalo
Lower Omalo is the administrative centre for Tusheti and the first major village on arrival in Tusheti. Upper Omalo is the old village dominated by the Keslo towers recently restored and worth the extra walk up the hill . The walk between the Upper and Lower Omalo is about 15 mins to 20 mins.
'Upper Omalo 2005 ' Guesthouse -
we stayed here in 2008
Upper Omalo 2005 is run by Micheil Othiuridze and can be found ,as you might expect, in Upper Omalo, just below the Keselo Towers. This Guesthouse offers full board, clean rooms and magnificent view of the Caucuses. I think we were only the second visitors to have stayed in this newly converted building in 2008. Upper Omalo 2005 is a two-storey building featuring a dining room on the ground floor ,which is nice and snug, with a number of bedrooms on the first floor. They serve good food and Cha Cha, mainly traditional Georgian dishes, although I understand European meals can also be arranged. There is hot and cold running water plus electricity, which is very unusual. The beds however are hard but don't be put off , this is quite common.
Good English is spoken by the landlord who, if I remember correctly, used to be a forester or something similar .
Village Upper Omalo
tel
+995 5 99 672243
+995 5 99 293756
Since writing this entry in 2009 I have a few more reliable numbers
Guesthouse Shina
Upper Omalo.
http://shina.ge/hotel_shina.html
Tel:
+995 595 262046
+995 579 170707
hotelshina@gmail.com
Elisabed Ichilauri's Homestay Lower Omalo
-
we stayed here in 2007
Elisabed Ichilauri's place is referred to as a Homestay but it is really a nice simple Guesthouse with no frills. It provides all basic amenities you will need . Toilets were outside in 2007 accompanied by some friendly frogs but I understand they now have toilets and washing facilities indoors .The house is two-storied with an excellent view of Omalo. This family-run guesthouse has a nice family feel and the food is good. The hostess cooks traditional local meals and plays the accordion if you are lucky, I thought she was brilliant. They can arrange tours to local villages and family members will guide you to any specific destination in Tusheti, well within reason. They have close contacts with the stables in Omalo.
We brought some wonderful Chitti (slippers) and socks during our stay but I understand they also sell local hats, bags and mats made from Tushetian felt.
Fairly good English spoken by one of the sons but this could have changed .
Tel +995 555 020171
email
:
ichirauli@mail.ru
Keselo Omalo
Tel (+995 5 98) 94 12 70
email
:
nani_arshaulidze@yahoo.com
Hotel Kamsuri in Lower Omalo
I've never visited Hotel Kamsuri but I understand it is close to Elisabed Ichilauri's place up on the hill overlooking Omalo village.Hotel Kamsuri is referred to as a family-run hotel (most likely Guesthouse ). The first floor features a dining area, while the bedrooms are on the second and third floors. Electricity is provided along with, hot and cold water, clean and comfortable rooms, and yes satellite television. The dining area is shared with other travellers ,which is common place and there is a TV .Why you would go all that way to watch TV goodness knows ?English is spoken
Tel
+995 595 54411
+995 558 758478
email
:
tushiase@yahoo.com
www.tusheti.ge
Hotel Tusheti in Lower
Omalo
A very swanky hotel to be discovered as you approach Lower Omalo from the main road into Tusheti . If you like gold lame bedcovers this is the place for you.
Contacts:Vaja shabalaidze and Soso Babulaidz
Tel:
(+995) 599 23 11 32
(+ 995) 599 79 00 92
email
:
hotel_tusheti@yahoo.com
Georgian and Russian spoken no English
Guesthouse Tushuri Koshki
A tradional style guesthouse located in the center of Omalo village
Village Zemo Omalo
Contact Nugzar Idoidze
Tel +995 599 272265
email: nidoidze@yahoo.com
Guesthouse Sargiri
Guesthouse Sargiri a new enterprise. I understand it is very comfortable and simple
Upper Omalo
Contact Vazha Kardlidze
Georgian and Russian is spoken.
mobile: +995 99 77 55 43 ; +995 55 30 02 21
email: nais_07@mail.ru , fatimishidze@yahoo.com
Bookings can be made through Nazy's Guest House website.
http://nazysguesthouse.com
Pirikiti valley Guesthouses
Shenako
Shenako is the first village after Omalo when traveling up the Pirikiti valley with the only working Georgian church in Tusheti .I've written extensively about Shenako in my travel Blog 'Travels in Tusheti'. Try this entry http://travelsintusheti.blogspot.com/2008/09/our-first-destination-shenako-and-party.html
.A wonderful place and well worth the visit.
I
found
this place a while ago and I know very little about it.
Contact :Elene Gagoidze
Tel +995 599 481812
email
:
hotelshenako@yahoo.com
English, Georgian and Russian spoken
Guesthouse Old Tusheti
Very simple, basic but clean. I understand from a contact you can cook your own food here .
Contact Eldar Bukvaidze
Tel +995 558 272006
email: gocha_tel@yahoo.com
Zao and Nino's new guest house
This is Zao ansd Nino's new guest house still being built in May 2013 and will be finished summer of 2015. I think it's built on the site of Nino's sisters house so I guess it's a family affair.
Nino/ Zao can be contacted on (

+995599001915)

The house
is easy to find near the church. Zao and Nino are fine people and I'm delighted with their new enterprise
Dartlo
Dartlo is halfway up the Pirikiti valley and used by many as a mid way stop off point until reaching Parsma . I understand there is a new Hotel called ,surprisingly, Hotel Dartlo and one Guesthouse called
Samtsikhe
which is almost the first building you come cross after crossing a small bridge before entering the village.
Samtsikhe guest house - we stayed here in 2007
Samtsikhe is clean with a shower and inside toilet but no sense of it being a family run affair ,which I'm sure they owners would be mortified to hear this . Great place for a shower and quite smart inside. Try walking to the village up above a tough climb but worth it
Contact phone is Tel (+995) 99 11 89 93
Email bes.el@posta.ge

When we were there in 2007 no English was spoken but I expect this will have changed
http://www.samtsikhe.ge/
Hotel Dartlo
Hotel Dartlo has its own web site
http://dartlo.ge/index.html
and appears to be very professional although I've never been there. There are 12 standard and 1 luxury room and the interior and exterior are built in the traditional style of Tusheti albeit new. Apparently the hotel has permanent electricity and hot water. This no doubt will be solar power since there is no electricity in Tusheti .Hotel Dartlo is located high above the village .GSM and apparently Internet connection works perfectly. My idea of hell, the last thing I want is my office calling me on my mobile with a perfect signal.

Administration: Mariam Otiuridze
email: admin@dartlo.ge
Tel: +995 89 246405
www.dartlo.ge
Guesthouse Rapo Tsadizkidze - it might have another name
Another contact in Dartlo is Rapo Tsadzikidze who takes guest but I've no details
Tel
+995 98 24 64 05
+995 98 17 49 66
Chesho
When travelling up the Pirikiti valley from Omalo, the villages are separated by a comfortable distance from each other. After discovering Dartlo the village of Chesho follows a fair distance after. I've never had the reason to stay in Chesho village but I understand there are two guest houses. "Jiki" and "Komito". I've been told horses can be hired in Chesho. As with all things Tushetian take the information offered with a pinch of salt but I'm sure the hospitality will be excellent and I understand that these Guesthouses are very helpful.
Guesthouse Jiqi
This guesthouse can take up to 22 guests with 3 shared bathrooms
Tel +995 99 585839
email: jangulashvili@yahoo.com
Guesthouse Komoto
Guesthouse Komoto or Qomoto has 4 bedrooms with shared bathroom in the yard
Tel
+995 91 257 402
email: ekaterineabaloidze@yahoo.com
Diklo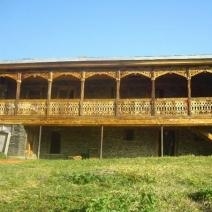 Two bedrooms for four people in each. A traditional and simple building . Breakfast and dinner are held on thr lage balcony.
Contact Guinazi Khelaidze
Tel +995 599 775372
Baso
No image
Contact Nodar Ididze
Tel +995 599 54 1941
email: nodarididze@yahoo.com
Gomertsi valley Guesthouses
Dochu
In 2007
we stayed in the ajacent family house while this Guesthouse was being built
A view over Dochu from one of the Guesthouses .
I don't get Dochu. It's a funny place, midway along the Gomertsi valley. Not easy to see from the road, clinging to the side of a very steep valley. The houses of Dochu are built like medieval tower blocks, squinting at Gogurlta across the deep valley .There is a new guest house close to the village shrine but I can't vouch for the facilities since it was still being built in 2007 .
Hotel Kruiskari
There is a simple path that takes you down to the river which is teaming with trout. Across the river, which is shallow enough to cross in places, you will find the beginning of the steep path up to Gogurlta. Worth the climb but very tough if you have a rucksack. This walk is a must.
Guesthouse Kruiskari
Contact Usuph Torgvaidze, Aleko Zuraidze, Tengiz Torgvaidze
Tel
+995

992 85647
email: hotelkruiskari@yahoo.com

Georgian and Russian spoken
Another place is Paata Abuladze home who takes guest,
Patties Guest house or Guest House Sargiri as it is known is purpose built, set apart from the main house with an amazing view of the river below.
The village of Verhovani is almost at the end of the road when travelling along the Gomertsi valley from Omalo.

Guest House Sargiriis can be found at the bend in the river looking back down the valley. One of our favourite places. Patties house has an excellent shower and toilet overlooking the valley. The rooms are clean and comfortable and I've spent many a wonderful time there. An excellent base for travelling further up country or off to Iliurta following the trail to Gogurlta. There is a nice church in Iliurta.
Although Patti's place is slightly further from the Route down from Nakie - Khol pass her cooking and hospitality is well worth the extra walk or ride. Check out Patti's bakery, she makes magnificent bread.
Conatct Vazha Karglidzeat via Nazy's guest house ( they speak English).
I've mentioned this earlier this section.The couple at
Nazy's guest house are contacts of
Vazha and Patti (Fati) and can arrange everything you need via email in good English which is helpful .
Nazy and her family speak English . You can mail Nazy when contacting Patti , if Georgian is a problem ,
nazy@nazysguesthouse.com or go to her web site
http://nazysguesthouse.com
Alternatively try contactintg directly in Georgian :
Tel +995 599 77 55 43
email: hotelsargiri@yahoo.com
Note the P and F are very similar in Gerogian hence I know Patti with a P but others would use an F making her Fati. All very complicated.
Patti's (Fati's or Phati's ) Guest house
looking up the valley.
Tower and old brewery in Verhovani
I believe this guest house is called
Lamata
This is a converted ( 2007) tower and old brewery which can be easily found when coming over the Nakie-Khol pass from Parsma.
Contact Anzor Kritiuli
Tel:
+995 99 70 03 78
+995 99 775 543
+995 249 24022
email: natia-kritiuli@web.de
Chico
I'm not sure where this is as the valleys goes but worth knowing about
Contact Soso Bakuridze
Tel +995 599 10 02 19
email: sosbakuridze@gmail.com
Tsikhistavi
I have no idea where this village is
Natsikhari Guest house

Web: http://sitegeorgia.com
Tel +995 599 929 505,
email: info@sitegeorgia.com
Sitegeorgia@gmail.com
Gogurlta
Lilies Homestay
We stayed here in 2008
A view of Gogurlta . Lilies Homestay is at the centre of this picture.
Lily and her grandson .

Lily from Gogurlta runs a cross between a Guest House and Homestay . All the rooms are clean and newly built as are many Guesthouses. In 2008 all the meals were held with the family but this might have changed as Zocrat ( Lily's husband was building a dining room table for guests when we were there .
If you are trying to find this terrific place, Gogrulta is a small hamlet opposite Dochu off Gomertsi Alazani Gorge/valley with no direct road, only very precarious and steep paths but well worth the trip. You can get there from the main valley track from Omolo. Stop at Dochu and make you way down to the river valley below .The climb back up the othere side of the Gorge is very hard indeed but worth the walk . Alternatively you can take the trail from Iliurta to Khakhabo or the other way around.
We first saw Gogurlta from a distance in 2007 and wanted to make a visit in 2008 . Our host Lilly and her husband have made an excellent Homestay/Guesthouse and I think it is fair to say that Gogrulta is one of the most magical places in Tusheti and for us an excellent two day stay to just chill . A point worth making is the surrounding ancient birch woods are breathtaking as is the trail to Khakhabo . A place not to be missed and Lilly's dairy and food are legendary. No English is spoken by Lilly or her husband Zocrat but a couple of Grandchildren are pretty good , you get the picture .I understand there are other places to stay in Gogurlta but I have no idea where or who to contact. A number of French riders arrived when we were there and they stayed in some nice looking rooms below Lillies but that is all I know.
Lily's husband Sokrats or as I know
him
Zocrat, number is :
+995
595143487
Khakhabo
Guesthouse Kehi
Contact Giorgi Bakuridze
Tel +995 557 143907
email: gio.bakuridze@gmail.com
Shtrolta
Hotel Loeli
Contact Lamzira Gotaidze
Tel +995 599 218139
email: hotelloeli@yahoo.com
I hope this account is useful . Of course I have my preferences but please take this as a personal opinion - this is after all a blog and not an official website of any kind . If you have any information on Guesthouses or Homestays please let me know.
Happy travelling and if you make the trip let me know how you got on. I should add the Guesthouse information on this page was updated Aug 2013 . I've checked the details but the entries may be incorrect due to the quality of my sources.
Happy traveling
Chris Wills